A well-established, highly-respected general contractor
proudly serving Lethbridge and Southern Alberta
Specializing in multi-faceted heavy civil construction and outstanding project management for infrastructure, renewable wind and solar energy projects.
Superior project management with dedicated, professional teams serving both private and public projects in Lethbridge and Southern Alberta
Who We Are
EXPERTISE • QUALITY • VALUE
McNally Contractors is a well-established, trusted and respected general contractor servicing Lethbridge and Southern Alberta. The strength of the organization is in the decades of employee experience, vertical integration of services and our commitment to quality and value.
Our commitments are to our clients, to our people and to safely build high quality infrastructure. A company dedicated to family values and a team approach, delivering quality products on time and on budget. A commitment to our employees to build great communities and construct a great life.
What We Do
Specializing in underground utility installation, road construction, paving, concrete, and trucking. Supplying materials for both asphalt and aggregate production.
Why Choose McNally Contractors
McNally Contractors is a diverse, vertically-integrated company that offers a wealth of experience and quality to partnered companies. An industry leader for fair contract negotiations and an excellent reputation for prompt payment to vendors and suppliers. McNally's 45+ years of delivering on-time and on-budget construction projects continue to make us the most sought-after construction partner in Southern Alberta.
McNally Contractors has a long-serving employee base and many of our team members have spent their entire working career with us. The company has a history of repaying employee loyalty with above-industry wages and adaptation of duties to suit changing abilities. A company providing opportunity and promotion with an extensive safety program that ensures employees go home safe at the end of the day.
Remarkable companies are built with remarkable employees. Apply today to become part of the McNally family.
Living that Lethbridge Lifestyle
Big city amenities with a small-town vibe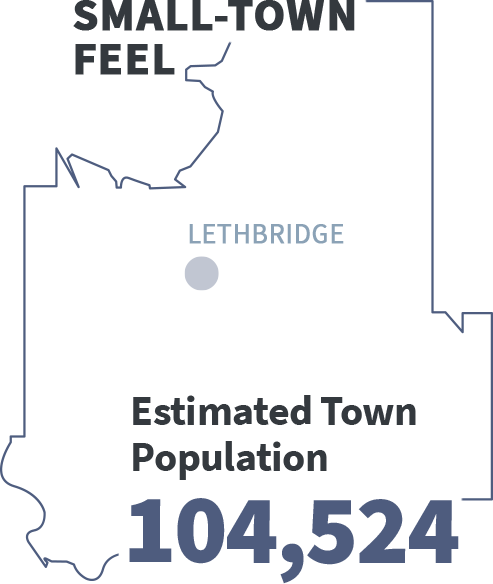 Lethbridge is a great city to live and work, with big city amenities and a small-town feel. You can drive anywhere in 15 minutes with great infrastructure and quick commutes. The mixture of industry and agriculture, along with both University and College facilities help provide a stabile base for the economy. Lethbridge boasts great recreation facilities and golf courses. The warm summers and moderate climate offer a long construction season and great work-life balance.
With amenities for all types of people and family dynamics, Lethbridge is a great place to be. Quiet and safe communities are all nestled in the area creating great opportunities for students and workers to thrive.
We are proud to call Lethbridge our home and we hope you are too.